Happy Holidays from the K-Co Construction Team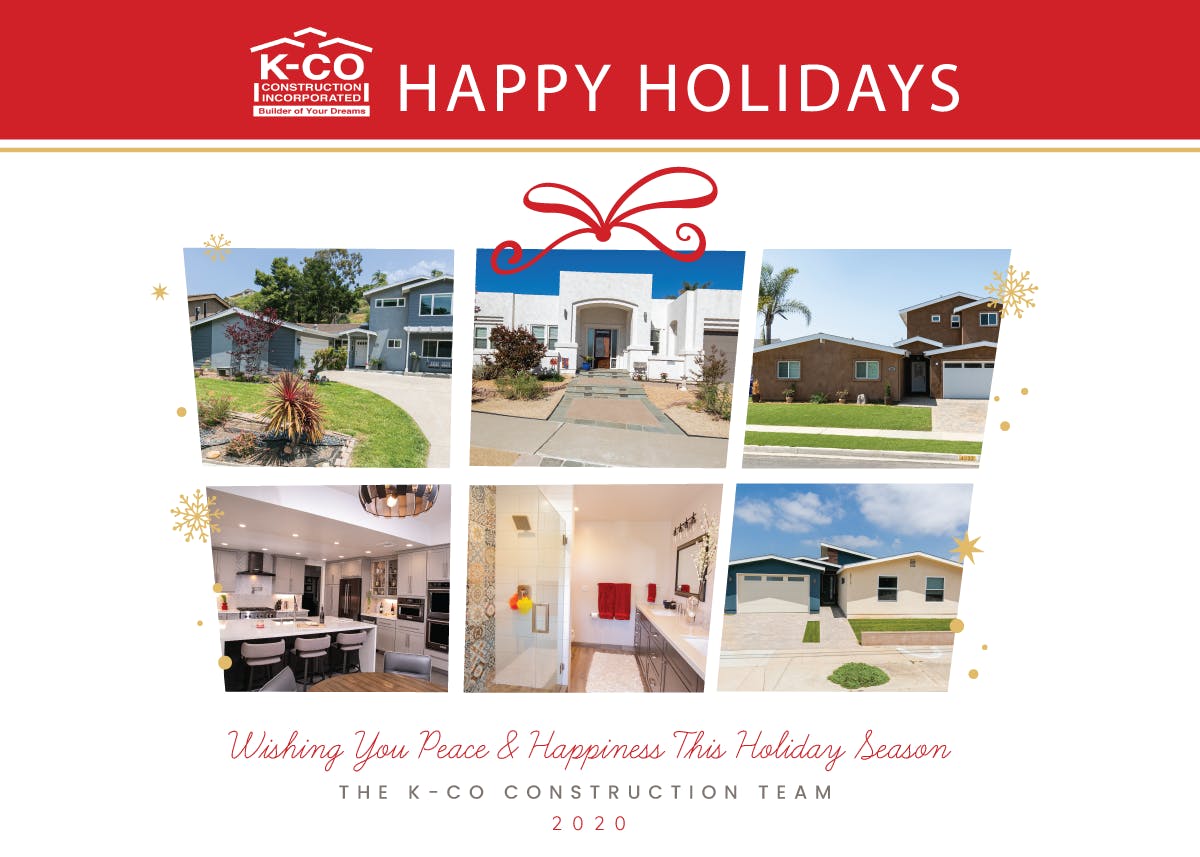 To our community, clients and friends:
What a crazy year for all of us. Next year cannot come quick enough. I think we are all counting the days down and hopefully we start to see the light at the end of this tunnel.
2020 has been a paradoxical year for K-Co that is hard to explain and even harder to understand. As the first news of the pandemic started to indicate its effect on our business in January/February, we were in the midst of finishing 3 major whole house remodels in San Diego after one of our best years ever. Then ironically on my birthday, we learned that there was to be a complete shutdown of our economy. What would this mean for us and the projects we were yet to finish? Fortunately remodeling was spared from shut down and we were able to scramble and keep things going. Our focus then turned to changing our habits to protect our employees and clients while we work in their homes. Im very proud of how my employees and subcontractors have responded to this crisis. I believe we have become a model for many other remodeling companies.
Once things settled down and everyone got a chance to adjust to our new lives a new challenge developed for us. After months in quarantine at home, almost everyone I talk to has developed a remodel plan to their house. I hear almost every day how we all need more space to be at home together. This has meant that we have become busier than at any time in my career. We are scheduling appointments and projects into next year already. I am thankful to be able to still conduct our business, keep my employees working safely and help our clients make their homes a little more pleasant while they are stuck in them.
Overall we have worked on more than 40 construction projects in San Diego this year including some of my favorite projects ever. We have adjusted our procedures to be safer in a pandemic and continue to examine ways to do things better. We promoted 2 key employees and their progress is inspiring. ADU construction has taken an increased role in our project lineup with 2 current and 2 more slated for the near future. In addition, we have many remodels scheduled to begin soon after the new year. Keep your eye out for projects near you coming in 2021.
From our family to yours, we hope that everyone has a safe and healthy holidays! We are here and ready to build your dream home in San Diego when you are ready. We continue to proudly serve the communities of Bay Park, Clairemont, University City, Pacific Beach, Point Loma, La Jolla, Ocean Beach, Linda Vista and Kearny Mesa.
Chad Gardner
President
K-Co Construction Inc.
Call us at 619-517-7045.
Email at 
info@kcoconstruction.com
www.kcoconstruction.com